A Brief History
On June 25, 1947, boxer Jimmy Doyle of Los Angeles, California had the opportunity of his life by getting to fight the legendary Sugar Ray Robinson for the welterweight boxing world championship in Cleveland, Ohio. Unfortunately for Jimmy, the fight did not go as planned, and proved to be the last time he would ever box or for that matter do anything else, as he was knocked out in the 9th round and never regained consciousness in the St. Vincent Charity Hospital, declared dead hours later.
Digging Deeper
While it is not rare for a boxer to succumb to injuries incurred in the ring, with somewhere in the area of 500 boxers known to have died because of boxing injuries, having a title contender killed during a championship fight is unusual. In 1982, Champion Ray "Boom Boom" Mancini of Youngstown, Ohio entertained a challenge for his lightweight boxing title from South Korean boxer Duk Koo Kim (or Kim Duk Koo following Korean tradition). That championship match resulted in the death of the unfortunate Korean and forever affected Ray Mancini. Kim had been knocked out in the 14th round and was declared dead 4 days later. The sad results of this title fight resulted in the change of having title fights last only 12 rounds instead of 15.
Jimmy Doyle was born Jimmy Delaney, the son of Louisiana Creoles, people that were of mixed race and spoke French. Doyle had fought 52 times professionally and as an amateur before the title match against Robinson, winning 43 of those fights and losing 7 with 3 fights declared draws. Despite his tender age of only 22 years old, Doyle was a seasoned fighter, just not as good as Robinson, one of boxing's all-time greats.
Robinson dominated the fight, although Jimmy did rock the champ in the 6th round, buckling the champ's knees twice, though Robinson survived the round. In the 9th and final round, Robinson dealt a crushing left hook that put Doyle down for the 3rd time in the round, laying the Creole fighter flat. Doyle did briefly raise his head and get up on his elbows but was quickly transported to the hospital where he arrived unconscious. He died within hours, never waking up.
Sadly, the impoverished Doyle had told people he was fighting to buy his mother a house, and Ray Robinson was so moved as to donate his winnings from his next 4 fights to Doyle's mother. Incredibly, there was a groundswell of public opinion that Robinson should be charged with manslaughter! Of course, no such action was taken. It was later revealed that in Doyle's native California his boxing license had been suspended because of severe knockouts he had endured, and the state athletic commission would not sanction Doyle fighting in California.
Prepare to be creeped out… Sugar Ray Robinson had tried to back out of fighting Doyle because the night before the fight Robinson had a dream in which he had killed Doyle in the ring!  Sugar Ray had to be talked into taking the fight by a priest and a minister. (Thanks guys!)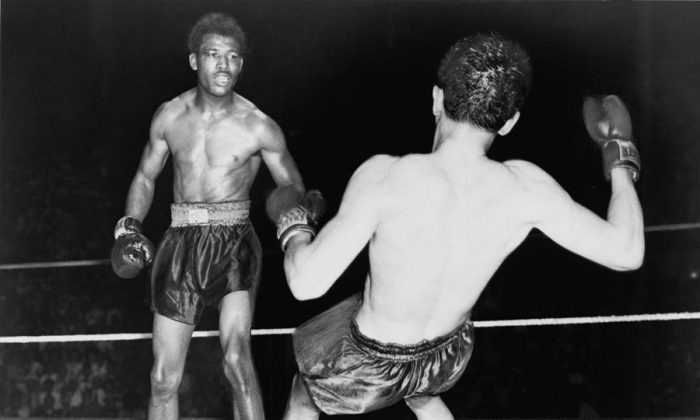 Question for students (and subscribers): What boxing match do you consider the greatest match of all time?  Please let us know in the comments section below this article.
If you liked this article and would like to receive notification of new articles, please feel welcome to subscribe to History and Headlines by liking us on Facebook and becoming one of our patrons!
Your readership is much appreciated!
Historical Evidence
For more information, please see…
Anderson, Dave and Sugar Ray Robinson.  Sugar Ray.  Da Capo Press, 1994.
Worsell, Elliot.  Dog Rounds: Death and Life in the Boxing Ring.  Blink Publishing, 2019 (reprint).
The featured image in this article, an historic image uploaded to Find A Grave by Ron Buchinski, is used in an article intended for educational purposes per fair use, although given the age of the image, it is also possibly in the public domain.
You can also watch a video version of this article on YouTube: